On The Moon
Brought to you by Leonard Skully Records, our first full length album is now available for you to buy! This is some piece of work, it took us over three years to get it just how we wanted it, the band headquarters 'The Kastle Inkredible' was moved three times during this recording.
The songs were composed and recorded using lovely old synths and drum machines, some of which are older than the band members themselves.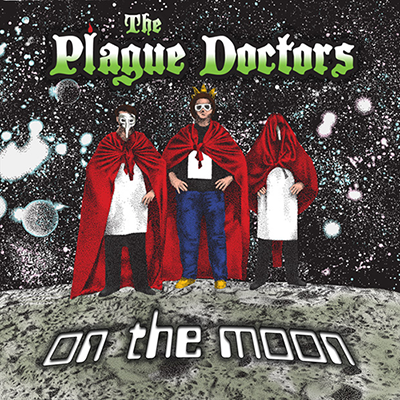 Buy Our Album
The album is available on 12" vinyl, CD or download. All purchases come with a download link so you can listen to the album on digital players.
Preview Tracks
Check out a MEGAMIX of tracks from the album
Tracks
1. The Start or the Stop
2. Diana 2.0
3. Wasting My Time
4. Kiddy Bus
5. We Killed Everyone at Radio 1
6. Scorpion Birthday
7. Killing Dem Goonz
8. Je M'appelle
9. If I was Attracted to Girls
10. Snipping Off Your Face
Credits
Music recorded by The Plague Doctors at The Kastle Inkredible
Vocals recorded at 11STSQ Studio
Mixed in Prague by Scott Horton
Front cover drawn by Ben Burford
Photos by Graeme Bowman